As the official coaching and training partner, we had the privilege of an insider's view as we supported our clients with our Race Services through all three of the Haute Route sportives this summer. We drove over 6,200 km in three weeks over some of the highest roads in Europe, giving advice, providing coaching, handing out gels and energy bars and massaging weary legs or taping up injured joints at the end of the day.
A week after the closing ceremony in Anglet seems like a good time to reflect on the experience, and to offer suggestions for anyone considering taking up the challenge in the future.
The first thing to state should be obvious
Riding 900 km and climbing over 20,000m in seven days is a very considerable challenge, even for trained cyclists, and should not be taken lightly. In spite of this there are still people who arrive with very little experience and very little training. Some of these do not even make it up the first climb, let alone through the first day. Whether ignorant or over-confident, their experience is not a positive one.
Others, however, prepare for 9-10 months. During this time they will ride 10-15,000 km, and climb upwards of 100,000m. Finishing the Haute Route is not an issue: their goal is a place in the top 50, and they will race very hard to achieve this.
Most riders will be in between these two extremes.
In order to enjoy the experience, you need to feel you are riding well. Riding well for seven days in a row through the mountains takes a significant amount of preparation. Our recommendation is to prepare for the Haute Route as seriously as if you were preparing to run seven marathons on seven consecutive days. You should establish a training plan for at least the six-month period preceding the race, and progressively increase your daily distances and climbing. It is important to plan a week in the mountains 6-8 weeks before the start. During this week you should ride at least 60% of the Haute Route distance and vertical climbing.
Alps, Dolomites or Pyrenees?
This is the eternal debate between Haute Route riders: which race to choose?
There is no straightforward answer. What would have been true in 2014 (with the benefit of hindsight) would not necessarily be true in 2015. There are far more things in common between the three races than there are differences. The total distance, the number and difficulty of the climbs are carefully chosen to make them as equivalent as possible.
That said, there are some clear differences between the three routes that are likely to remain. The Dolomites have some unique scenery, and several of the passes are particularly high (the Gavia at 2652m, the Stelvio at 2758m) meaning that in case of bad weather it can be extremely cold. In 2014 the race was neutralized in Switzerland, except on the major climbs. It thus became a succession of hill climbs interspersed by long non-competitive transitions.
The Alps has always been the most popular and has both the greatest number of riders and the highest standard. There is something about taking the high road from Geneva to Nice that catches the imagination, as the scenery and vegetation changes from the austere ice and rock of the northern Alps to the Mediterranean pines and lavender fields.
Finally, the Pyrenees offer fewer crowds, much smaller host towns , stunning scenery ranging from the bucolic to the very wild and of course many iconic climbs from the Tour de France.
What goes up must come down…
Experience shows that accidents are far more frequent and far more serious on the descents than elsewhere. Climbing 20,000m of vertical during the week obviously means descending an equivalent amount. You can expect to ride approximately 400km on descending roads, at gradients varying from 2-3% up to 15% or more by moment… Some of these descents are judged particularly dangerous by the organisers and are thus neutralized, but the majority (except in Switzerland) are ridden under race conditions.
We therefore cannot encourage you too much to learn to descend safely, and to practice this regularly. It is impossible to simulate a 20km descent. There is no other option but to come to the mountains, and your progression will be far quicker if you work with an experienced coach. On several occasions during the 2014 races, our coaches were sadly able to predict who was going to have an accident.
The ultimate cyclist's challenge
To end on a more positive note, the enduring images I have from the 2014 events is the immense pride the riders took in completing this extraordinary challenge. Grown men fell into each other's arms as they crossed the finish line, many shedding tears of joy and relief.  Bitter-sweet feelings and mixed emotions flowed out: "I can't believe it's over", "I can't believe we've done it", "is this really the end?" "We must come back next year!"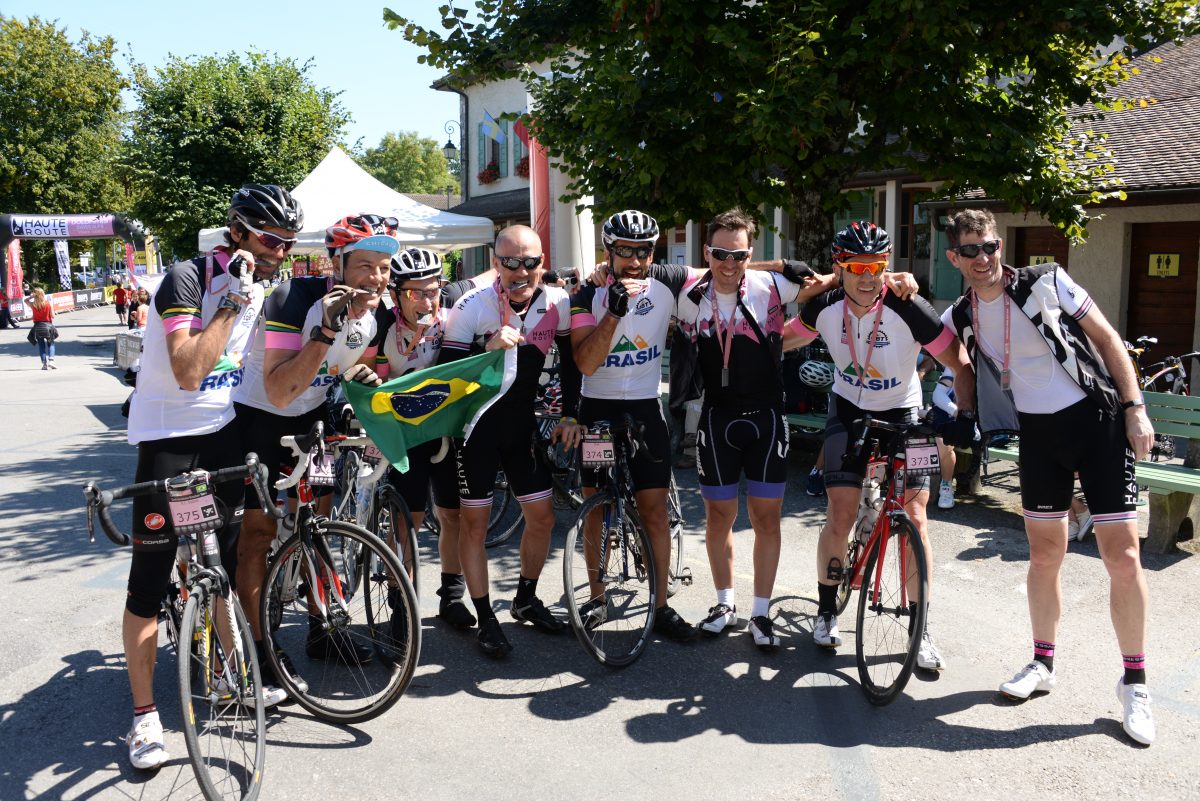 The Haute Route is truly a mental challenge as much as a physical one. Your desire to finish in front of the dreaded Lanterne Rouge and the broom wagon will lead you to depths of suffering you are unlikely to have ever experienced before. You will come out of it a stronger person, in every respect.
Do it. But do it right.