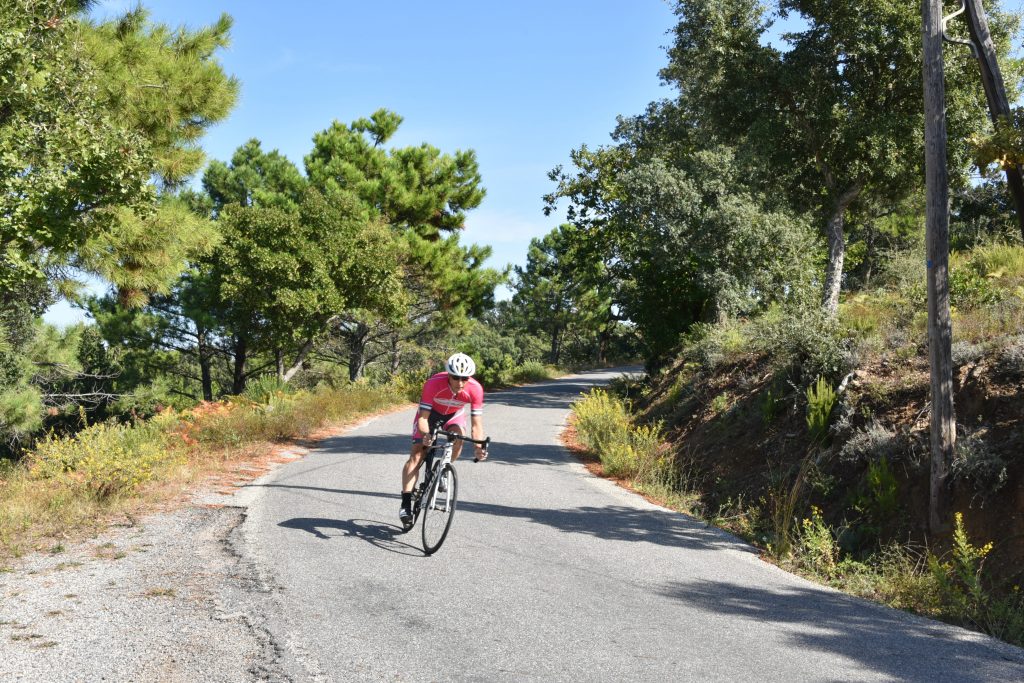 What does it take to do well at this event?
Depending on your level, it will take you between 5 and 9 hours to finish the 161 km. If you wish to do well you will have to train hard through the winter in order to peak on April 7th.
But train on what, exactly?
Before we can answer this we need to look at the Event Demands, or what, precisely, does it take to do well at this event?
Course analysis for the GranFondo Gassin – Golfe de Saint Tropez
The demands that follow have been written for someone who wants to achieve a good performance, but can easily be adapted for riders who simply want to reach the finish line of this challenging event.
Physiological demands
A high power-to-weight ratio
Excellent aerobic endurance
Excellent short-term muscular endurance
The ability to respond to attacks
A good ability to recover
Psychological demands
The ability to maintain focus and motivation on climbs
The mental ability to descend and corner at speeds above 60 km/hr
The ability to maintain focus and concentration until the finish
Technical demands
Excellent descending and cornering skills
Very good bunch riding skills
Very effective climbing skills
The ability to eat and drink on a demanding, technical course
Tactical demands
The ability to identify when to push harder and when to conserve energy
The ability to identify appropriate attacks to follow
Before deciding on the details of your personal training plan, you should spend time to analyse your current abilities against the list of event demands to identify your strengths and limiters.
To perform at your best you must not only continue to develop your strengths, but also work on your limiters, at least to the point where they no longer handicap you. As an example, if descending is a limiter for you, you might easily lose a minute on each descent. The cumulative effect however will be much worse because you will lose the people you were riding with and drop back at least one group each time. The result could easily add up to a 20 or 30 minute deficit by the end.
Training Plan
The best training plan for you is one that has been designed with your unique strengths, limiters, objectives, context and constraints in mind, and is constantly adapted for you when things change (as they inevitably do).
A generic plan is very likely to be sub-optimum. This is why the plan we propose below is essentially a framework and a set of guidelines for you to adopt and adapt as appropriate.
The key principles are:
Build a strong aerobic base, so you can ride hard for several hours without having to ease off.
Build short-term muscular endurance, to close gaps and power up short climbs.
Increase the load progressively, then recover, in 4 week cycles (3 intense weeks followed by 1 week of active recovery). Adopt a 3 week cycle (2 intense weeks followed by 1 week of active recovery) if you are 50+ and take time to recover. The recovery weeks are essential to allow your body time to adapt and get stronger. There should be a big difference between your hardest and your easiest training weeks.
Work on both strengths and limiters, so you don't get dropped unnecessarily.
Include exercises to develop technical skills, and not only physiological capacity, because bike racing is not only about FTP and VO2max.
The plan begins on November 5th, five months before the target event, and assumes your ability to continue to ride regularly on the roads throughout the winter. If this is not the case, you will have to compensate by doing long rides on the turbo (Zwift is a great help for this) and ideally by joining a training camp in a convenient warm-weather location such as southern Spain or Portugal, Mallorca or Tenerife.
Training Plan Structure
The training plan is made up of three phases: Preparation, Pre-Competition and Competition. Each phase is then broken down into 4-week meso-cycles including 3 load weeks and one recovery week, with a target training load for each week.
In Fig 1 (below) we have provided an explanation of the Training Focus for each phase, while in Fig. 2 we have provided suggested workouts for a typical week. It is up to you to adapt these depending on your personal situation.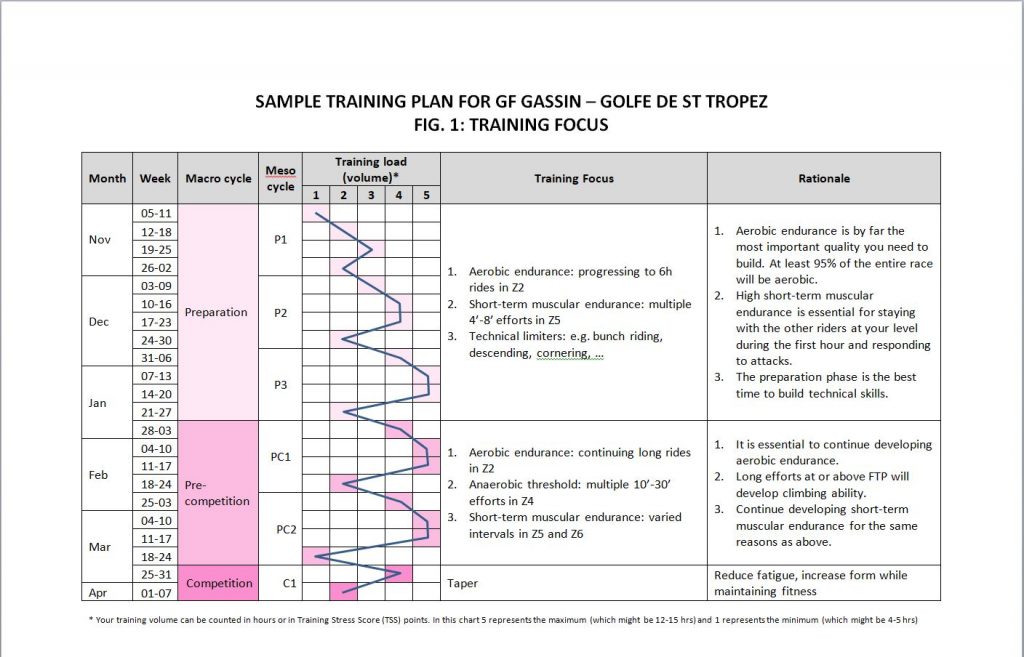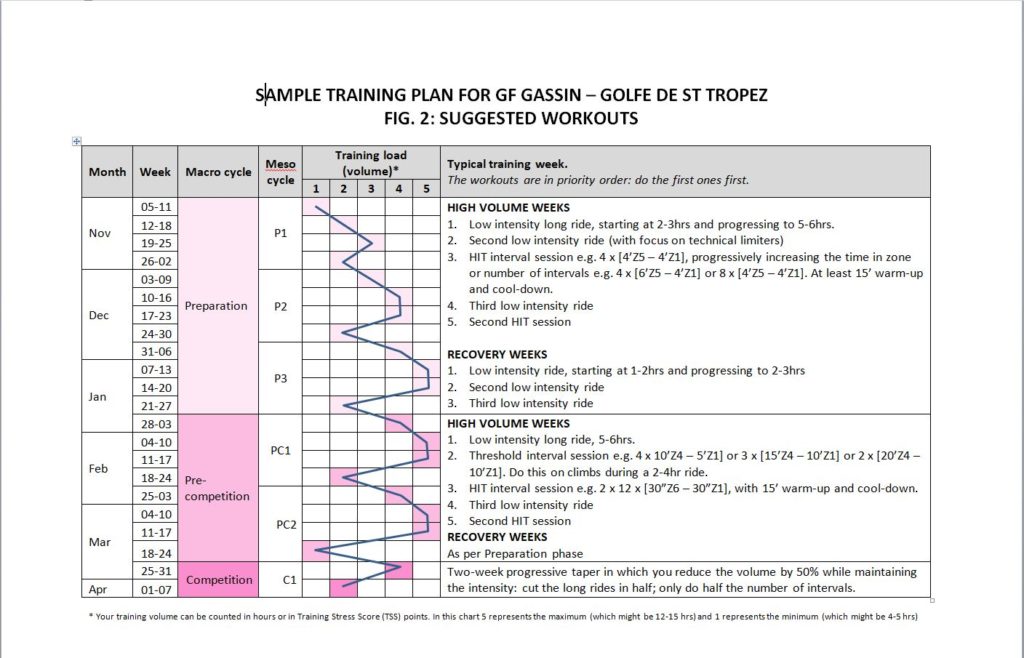 Training Zones
Training is effective when you get the right "dose" at the right moment. The "dose" is measured by the time you spend working out at a specific level of intensity. The time is easy to measure, but how can we measure the intensity?
Intensity is usually determined by a table of training zones. Without going into the detailed theory underpinning these zones, you should be aware that there are three common ways to determine the zones, one relying on subjective judgment and the other two on measurement of either heart rate or power output. In addition to this, different researchers have developed different names for the zones and don't even agree on how many there should be.
Our training plan is based on the widely-used 7-zone model created by Dr Andrew Coggan, and recapped in Fig. 3.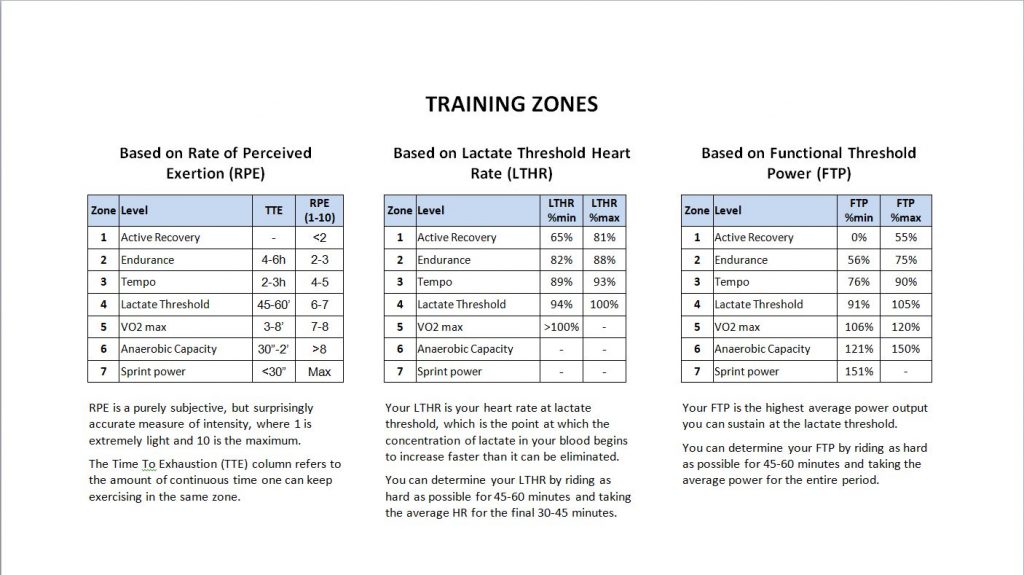 Want to perform at your best during the GranFondo?  Join the Alpine Cols coaching camp Mar 31st to Apr 6th, recce the route, improve your skills and learn race tactics from our expert coaches.
SPECIAL FREE BONUS: Benefit from a 3-month free trial of a set of InfoCranks®, the best power meter currently available (preferred by the UCI development centre and British Cycling).
If you would like a professional coach to help you prepare for this (or any other road cycling event), contact us. We will tell you immediately if we can help or not.